---
The Shelly H&T measures temperature and humidity. It connects via Wifi and you can access the measured data from anywhere, simply via the free Shelly app. Of course, you can also create rules and alerts. 
Air humidity is very important for your home and for your health. The officially recommended humidity level in a house is between 40% and 70%, ideally between 50 and 60%. With Shelly H&T, you can measure this comfortably and take the necessary actions.

 


Humidity
Measures the humidity level in order to detect possible problems of dryness or risks of mould 

Temperature
Stay informed of temperature fluctuations for comfortable accommodation at all times. 

Battery life up to 16 months
Long battery life, for minimum maintenance.

Wi-Fi
Connect your Shelly H&T directly to your Wi-Fi. 

Easy control
To take advantage of Shelly H&T, the only thing you need is a Smartphone with the free Shelly app. 

History of your data
With the Shelly H&T module you can access a data history of up to a year, and this for free, from anywhere. 

Optional USB power supply
The optional USB power supply allows you to power your Shelly module with a cable rather than a battery.
Also designed for developers
The Shelly modules allow you to install alternative firmware. In addition, the modules have a Rest API that allows you to control the modules directly and locally, without the need for the cloud. 
Small and practical
The Shelly H&T is definitely smaller than you think. See for yourself.

Your history at your fingertips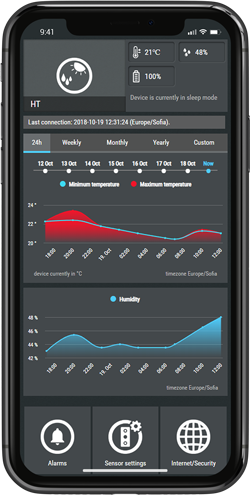 The Shelly H&T stores your temperature and humidity history for years, day by day, hour by hour.
With Shelly you can optimise your energy consumption, by heating only when necessary. 
Be informed slightest anomaly, anytime and anywhere.
Technical Specifications
See instructions in the "Download" tab of this product sheet.
Power supply: 1x CR123, not included
Battery life: up to 18 months
DC power supply: optional 
Temperature measurement range: -40° +60°
Humidity measurement range: 0 to 100%
Local and cloud control: yes
Consumption: <1W
Wifi: 802.11 b/G/N
Dimensions: 35mm x45mm